Long time no see, blogosphere! Katie and I are finally back home from the Land of Potatoes (Idaho) and are finally ready to start blogging again. Being away from technology for almost two weeks was tough for us,but somehow we survived! Anyways, we both missed our little blogging social life and are happy to be back home in Connecticut.
Idaho is a six hour plane ride from Hartford, so to keep myself occupied (I never can nap on planes) I decided to read Crystal Renn's new book,
Hungry
.
Yeah, yeah, yeah, I mention Crystal Renn a lot on this blog but I have good reasons. I love her story and I love what she stands for.
She proves that accepting your true self is the only thing
that can lead a person to ultimate happiness and success
. Crystal is one of the few models (among her are legends like Coco and Natalia Vondianova) brave enough to change the unrealistic ideals of the fashion world by revealing her own life's trials and tribulations. I really respect her for that.
Here is a short clip about her new book..... sorry I'm getting a little "Tyra Banks" on you, but I mean it when I say her inner strength and self confidence just radiate through this video!
Needless to say, I couldn't put the book down and had long finished it by the time I got home yesterday. In fact, I spent part of my plane ride writing Crystal a letter to tell her my thoughts on the book and to let her know how inspiring she is. (Sort of a dorky thing to do...but aren't most bloggers a little dorky?).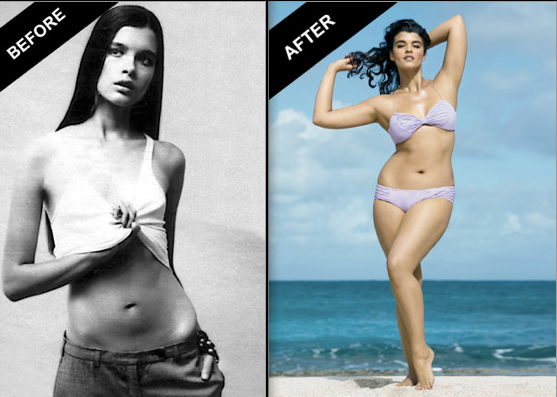 I really hope there can be more high fashion plus size models in the business. If there were more girls like Crystal booking high-end jobs, I think designers would finally realize these women can sell clothes just as well because their healthy looks project a more positive, beautiful energy. Just check out this image of Crystal walking down the Jean Paul Gautlier runway. She can really work that dress!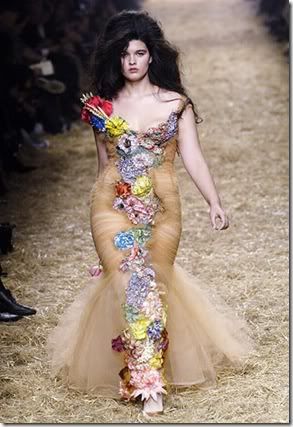 Anyways, Crystal's story resonates with all types of people, not just fashion insiders....with that said, I suggest you pick up a copy of this book and let its strong message sink into your mind.