For most people, getting gray hair is not something to look forward too. However, I've noticed recently that going gray is actually a trend that is being embraced by the fashion community. Just this month, US Vogue released a new editorial by David Sims featuring 43 year old model, Kristen Mcmenamy, donning a full head of lustrous silver locks.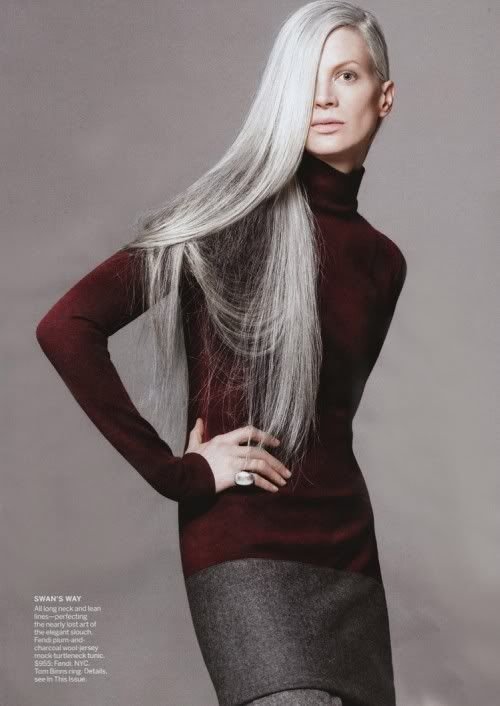 In my opinion, Vogue is sending a great message to its readers- that age is something to be proud of. This editorial reminds us that with age comes wisdom, grace, and for a few lucky ones, a well deserved sense of self actualization.
However, Italian Vogue is taking this trend one step further by casting 25 year old model Sasha Pivovarova and having her sport gray hair as well. It's like the people at Italian Vogue are saying, "Who says you need to be old to have gray hair?". In my opinion, having your hair colored gray at a young age is like when a person with perfect vision wears non-prescription glasses to look smarter. Gray hair makes a young person look wise and experienced. Take a look at this picture of Sasha from Vogue Italy (May 2010).
Call me crazy, but I really like the idea of a person coloring their hair gray. Just think of how cool Stacy London from What Not to Wear looks! If you're not sold on this idea, just look at this picture of one of my favorite models right now, Hannah Holman. I found this picture of her on The Fashion Spot and I think it looks totally awesome! I wonder if this is permanent for Hannah or if it's just some sort of transitional coloring from a job.....either way, I think she should keep it.
So, are you guys feelin' the gray hair on youngsters like I am? Don't worry, I'm not planning on coloring my own hair anytime soon but I have wondered what I would look like if I did.
xox Meggasus