Yesterday, Models.com posted the newest Prada campaign for the Fall/Winter 2010 season, photographed by Steven Meisel. Like I've said before on this blog, being cast in the Prada campaign is probably one of the best jobs a model can book. So naturally, I'm always very curious to see who landed the big gig. Take a look!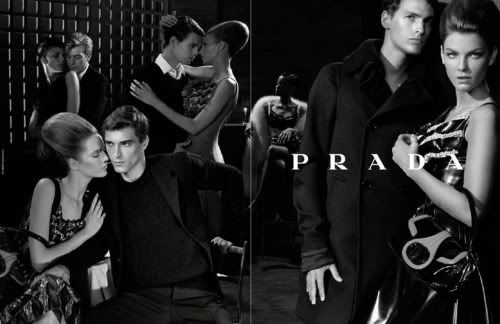 This season the campaign stars supermodel Angela Lindvall and Mathias Bergh. Other models in the campaign include Valerija Kelava and Kim Dall Armi, Daria Strokous and Clement Chabernaud, Mark Cox and Sigrid Agren.
When you take a closer look at the ad, you can see that there is also an unidentified model in the background who happens to be african american. This is the first time there has ever been racial diversity in a Prada campaign.
Part of me wants to celebrate this newfound diversity in the Prada ads, but the other part of me can't help but wonder exactly how progressive this ad is, considering the only black girl is alone in the background, covered by shadows and completely unidentifiable. Isn't it actually a little racist?
Any ideas on who is model is? My guess is Shena Moulton or Joan Smalls.
What are your thoughts about this campaign?
xox Meggasus