The most recent issue of W magazine came out with this stunning editorial photographed by Paolo Roversi, featuring models Arizona Muse, Lindsey Wixson and Britt Maren. W magazine always produces the most intriguing and beautiful editorials, and this one is definitely no exception.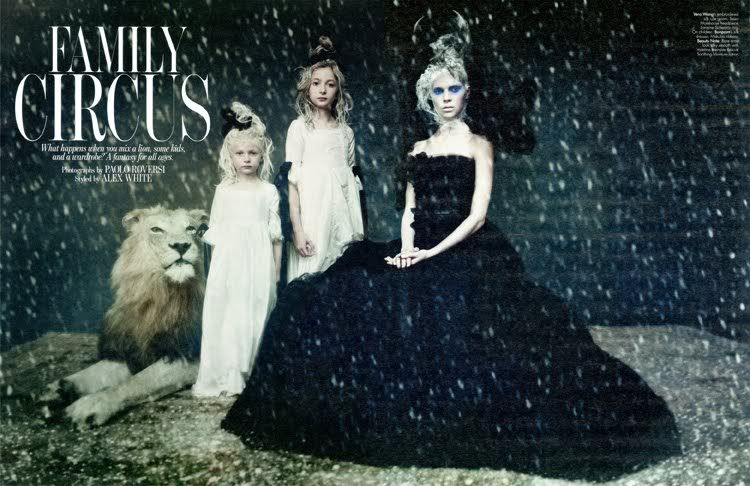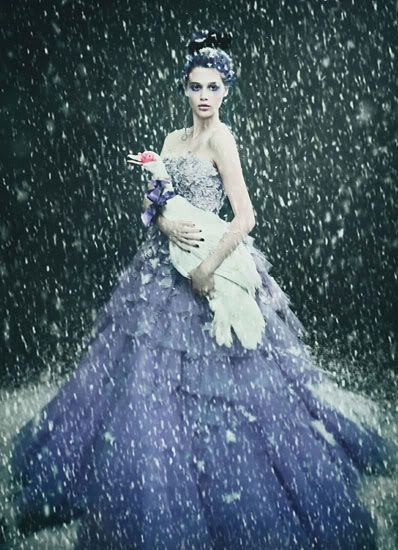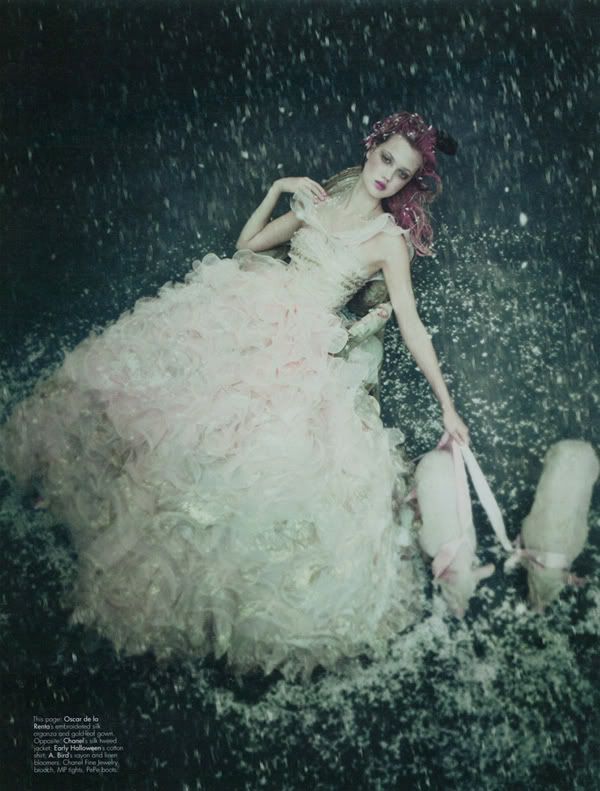 I just love the combination of snow, farm animals, and beautiful designer gowns.....how could you go wrong? The pale colors of the clothing and whiteness of the snow contrast with the darkness of the background beautifully.

The photographs evoke a feeling of innocence and grace, as well as mystery and emptiness.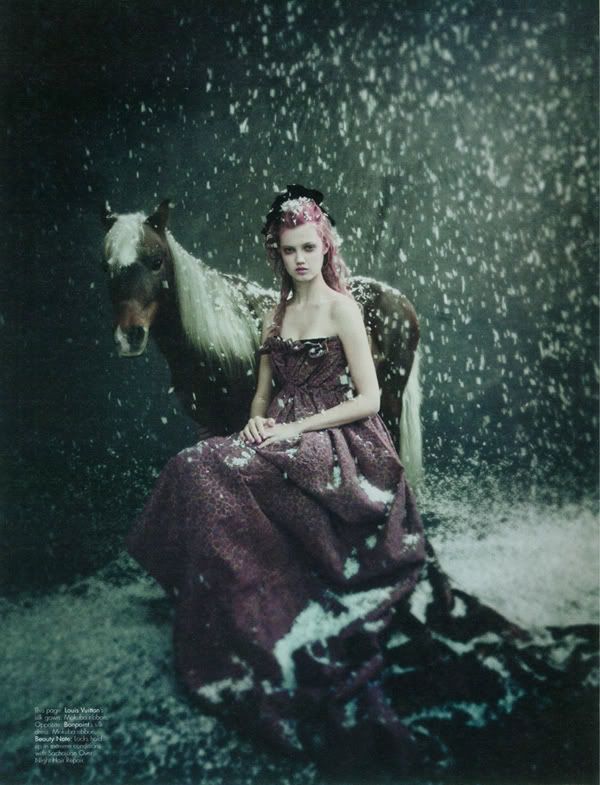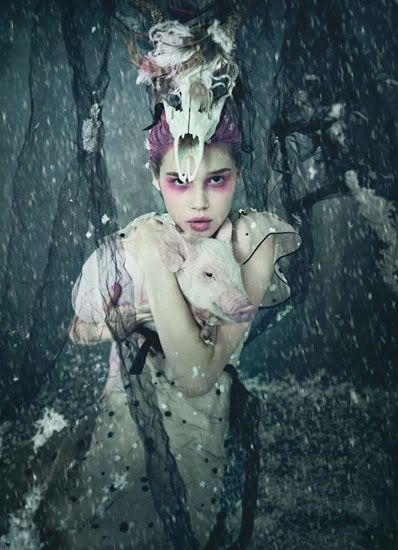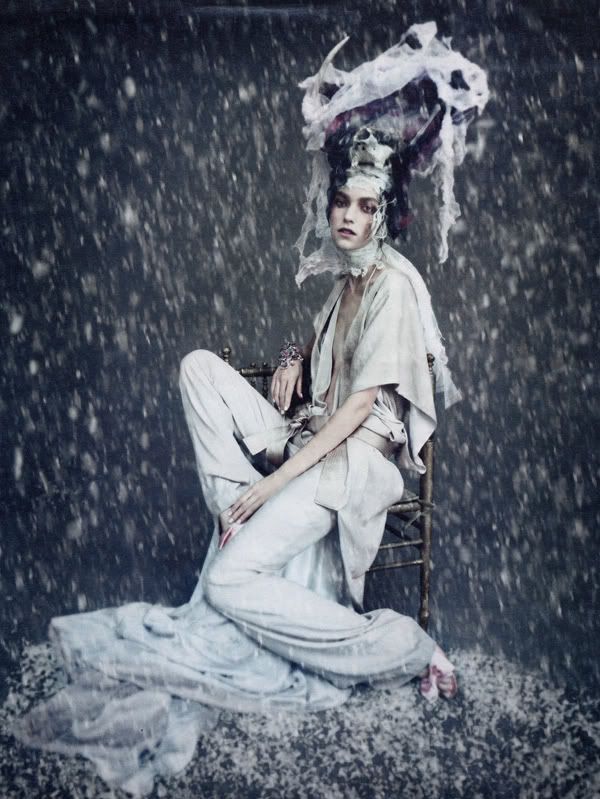 I think it was a great artistic choice to color the hair of some of the models reddish pink.... it brings just enough color to the otherwise dull color scheme of off-whites, grays and black.



The hair and make-up, as well as the general vibe of the entire editorial definitely reminds me of John Galliano's most recent collection. In fact, here is a picture of Lindsey Wixson backstage at John Galliano, wearing (pretty much) the same exact hat!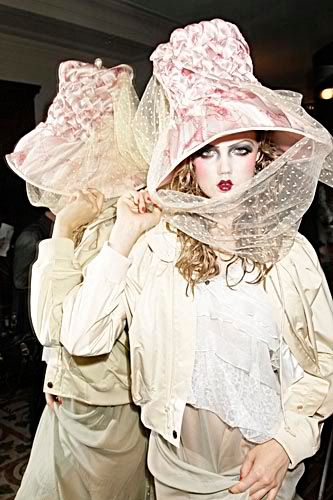 Oh, and I also think it's adorable how the editorial incorporated animals and children! In fact, there were 2 solo pages of just children...this definitely has to do with the newest craze, which is high fashion labels designing kiddie clothes for a sophisticated, fashionable child consumer. Take a look at this little guy wearing a Chanel tweed jacket.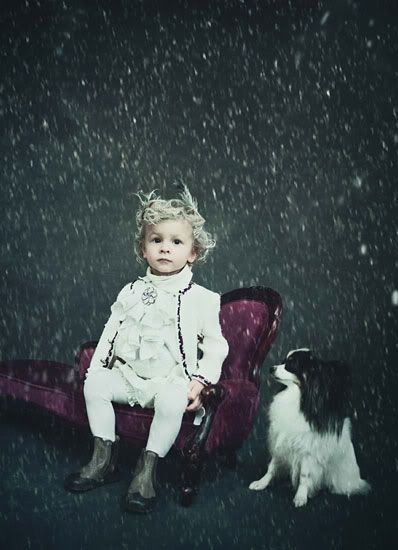 I don't know if designer clothes for children is adorable or ridiculous. Actually, I'm leaning towards ridiculous. What if your kid decides to play with his play-dough in his Chanel jacket? That's just a disaster waiting to happen, and the child wouldn't know the difference between that and his Gymboree overalls.

Hope you enjoyed this editorial as much as the last one! If you like what you're reading, please follow us! xoxo

much love,

Meggasus